Tentacle Zone Incubator - 2021 Showcase
By The Noisy Communications Team on behalf of Payload Studios on 13/08/2021
In March 2021, #RaiseTheGame Pledge Partner , Payload Studios, launched the Tentacle Zone incubator, a 4-month virtual games incubator programme for early stage founders from underrepresented groups, including POC, lower socioeconomic backgrounds, LGBTQ+, underrepresented genders (Cis women, trans women, trans men, non-binary and other non-cisgender identities), disabilities and neurodiversities.
The incubator was originally open to eight participants, however due to the calibre of the applications, Payload Studios extended the programme to accommodate twelve early-stage developers. Nine of the 2021 cohort showcased their games at the 'Tentacle Zone Incubator 2021 Showcase' at EGX Rezzed on 17:00 BST on Thursday July 15th, in an online event hosted by award-winning presenter and journalist, Elle Osili-Wood.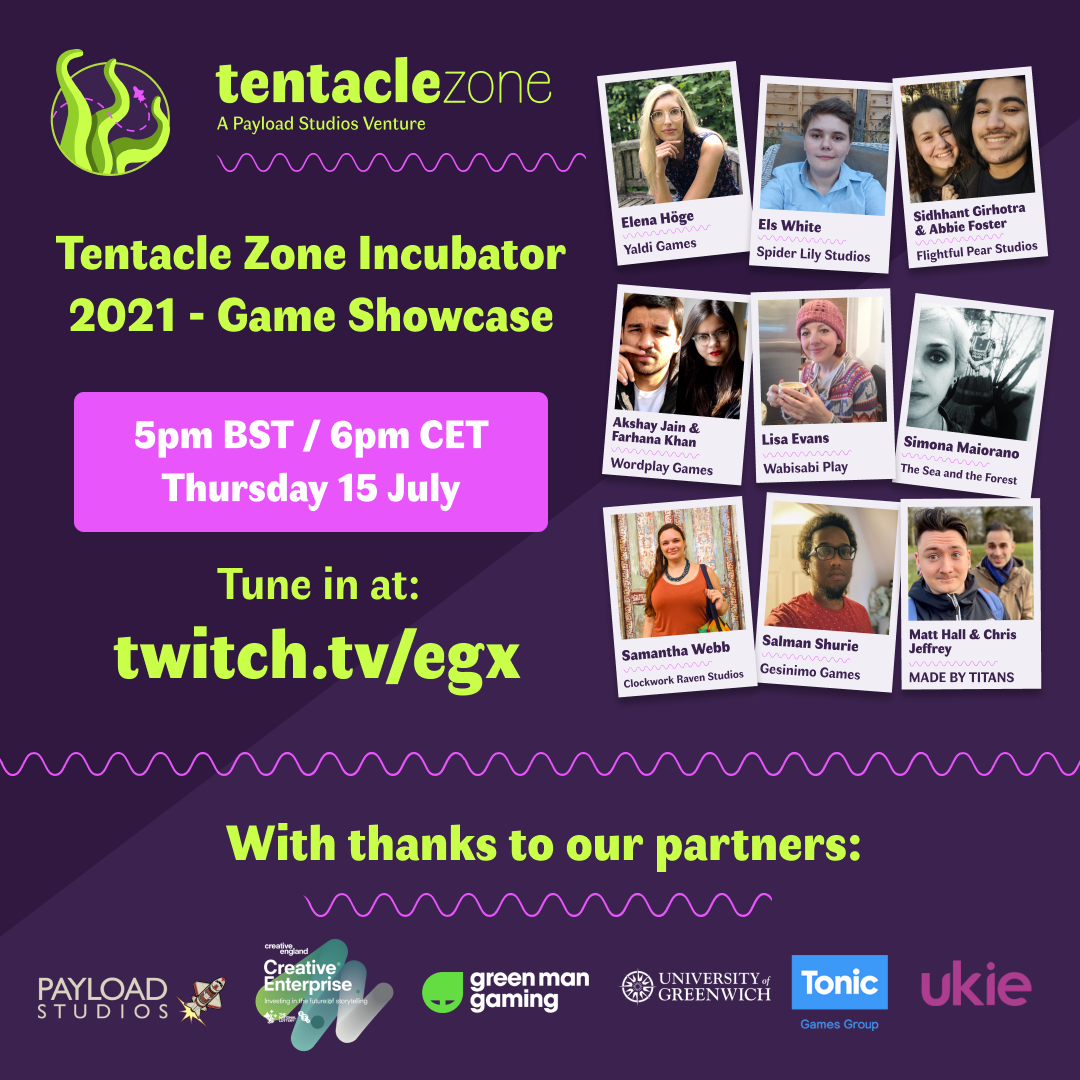 Featuring ten titles from early stage development to upcoming launches, viewers of the showcase enjoyed presentations from the founders as they introduce their games. The line-up includes:
Nature life sim, Wholesome - Out and About from Yaldi Games; who are also a pledge partner!
Schrodinger's Catgirl, a mystery adventure game from Spider Lily Studios.
Narrative adventure game, Maive from Flightful Pear.
Days Lost, a narrative puzzle game from Wordplay Games.
Wabisabi Play's 2D robot adventure, Growbot.
Sea of Leaves, The Sea and the Forest's contemplative PC and console game.
As yet untitled 2D narrative puzzle game from Clockwork Raven Studios.
Tap Tricks, one button skateboard game from Gesinimo Games.
BBBlaster, rogue-lite space shooter with dogs also from Gesinimo Games.
2D party game, Squishy Sports, from MADE BY TITANS.
You can watch the showcase If you didn't get chance to catch the showcase back in July, you can catch it below via YouTube:
---
"We launched the Tentacle Zone Incubator to help promote some of the incredible, diverse talent that exists within the games development industry. In this showcase you will see a first glimpse of some of the amazing, highly-original work from the 2021 cohort of early stage devs and founders. We are incredibly proud to bring you this showcase and want to extend our thanks to all of the partners who helped make this happen, but most importantly to the 2021 cohort themselves. Enjoy!"
Nisha Valand, Programme Director for Tentacle Zone at Payload Studios
---
The Tentacle Zone Incubator, which ran from March to June 2021, offered training and mentorship across five tracks from industry experts on topics such as design and production, marketing and PR, finance and business advice, as well as training in pitching and public speaking.
The Incubator is supported by industry partners such as:
Participants will be awarded a Continuing Professional Development certificate from the University of Greenwich upon completion, and will of course have access to all the connections and networks they tapped into through the incubator.