Polystream In Conversation With Jay Shin - Women in Tech & Why Mentorship Matters
By Tracey McGarrigan, Chief Marketing Officer at Polystream on 10/09/2021
Pledge Partner Polystream has started a brand new blog interview series spotlighting women mentors from across the industry & inviting them to share their stories called 'Women In Tech & Why Mentorship Matters'.
In these virtual interviews, they will explore: what it's been like to mentor through a global pandemic; who their mentorship heroes are; and, ultimately, why tech mentorship matters to them.
This series is in collaboration with the WIT Network – a Not-For-Profit organisation seeking to empower women (& men) to build and grow their careers in technology. You can find out more about their great work in the tech sector here.
For this piece, Polystream spoke with Jay Shin – Co-Founder & Director of the game studio, Arrogant Pixel, and long-term friend of Polystream.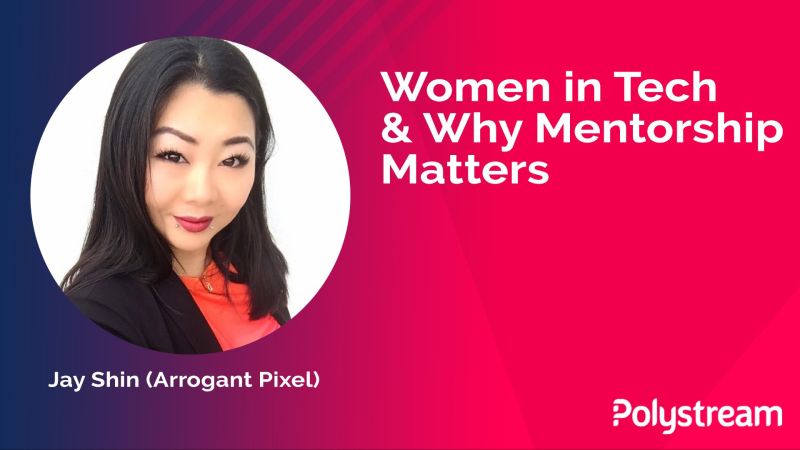 From your own experience, what do you think makes mentorship such a great tool for supporting women in the gaming & tech industries?
Jay: I think the moral and emotional support is the best thing about it for me. It's a great feeling; being taken under someone's wing. Having a mentor validates you and makes you feel like your goals ARE achievable because as a mentor, they are setting an amazing example. It can be very difficult, especially for young women who aspire to be in tech, to really visualise themselves in a leadership role so I think that there is some pressure for women in the industry to be more public about their experiences and drive forward positive change. This can be a very daunting prospect so having that person that you can look up to and ask questions or fret about things to, is invaluable.
What makes a great mentor? Can it be defined?
Jay: It really depends on what you actually need. I don't think a mentor is a tutor necessarily. They shouldn't be there to teach you new technical skills but they should be able to provide formative and critical feedback. For example, if you are a concept artist and looking for a mentor then try to find someone whose visual style you admire because you will be able to trust their opinions on things. For me, in business development, I would want something very different from my mentor. I would want someone that had significant experience in overseeing industry deals – or at least know how it all works so I can ask questions! It is a very personal criteria so a good match will just feel right, I think.
What can mentees do to get the most out of the experience?
Jay: Don't squander the opportunity! Show up at meetings on time and get the most out of your time with them. Perhaps agreeing on a regular meeting according to both of your schedules? I always like to prepare a short list of questions for them ahead of the video call so that I make sure to ask advice on everything I need. It is a professional relationship but one you can definitely be more candid and honest about your experience with. If you're unsure about anything important, it shouldn't be too much of an issue to send a quick email asking for an opinion on something! Never be afraid of asking stupid questions.
What has it been like to deliver mentorship remotely during the pandemic? Have you had to make any changes to your approach?
Jay: My experience as a mentor has been slightly different as I work in the education sector and have students that I am responsible for. Video calls have replaced one to one tutorials and I still feel like my approach is the same when providing support. I just make sure that they know that they can reach out at any time and if it's a quick question, I normally get back to them on the same day. I feel that I am engaging with more students now that I am able to provide online support as it is so accessible to them.
If you could choose one woman from history to be your own personal mentor, who would it be?
Jay: Honestly, not many I can choose could replace the mentors that I have today. But if I could choose one, it would be Gail Tilden who was the marketing director of Nintendo of America and oversaw the launch of the NES and created Nintendo Power Magazine. She is so amazing and a true inspiration.
---
Looking for more great mentorship content?
We're looking forward to sharing more from our Women in Tech & Why Mentorship Matter series both here on the pledge website and on our own blog, featuring even more stories, expertise & insights.