Pledge Partner Case Study - Jagex
By The Editor on 31/01/2020
RaiseTheGame is all about collaboration and learning from each other - our pledge partner case studies show how other games businesses are improving diversity and inclusion in their businesses.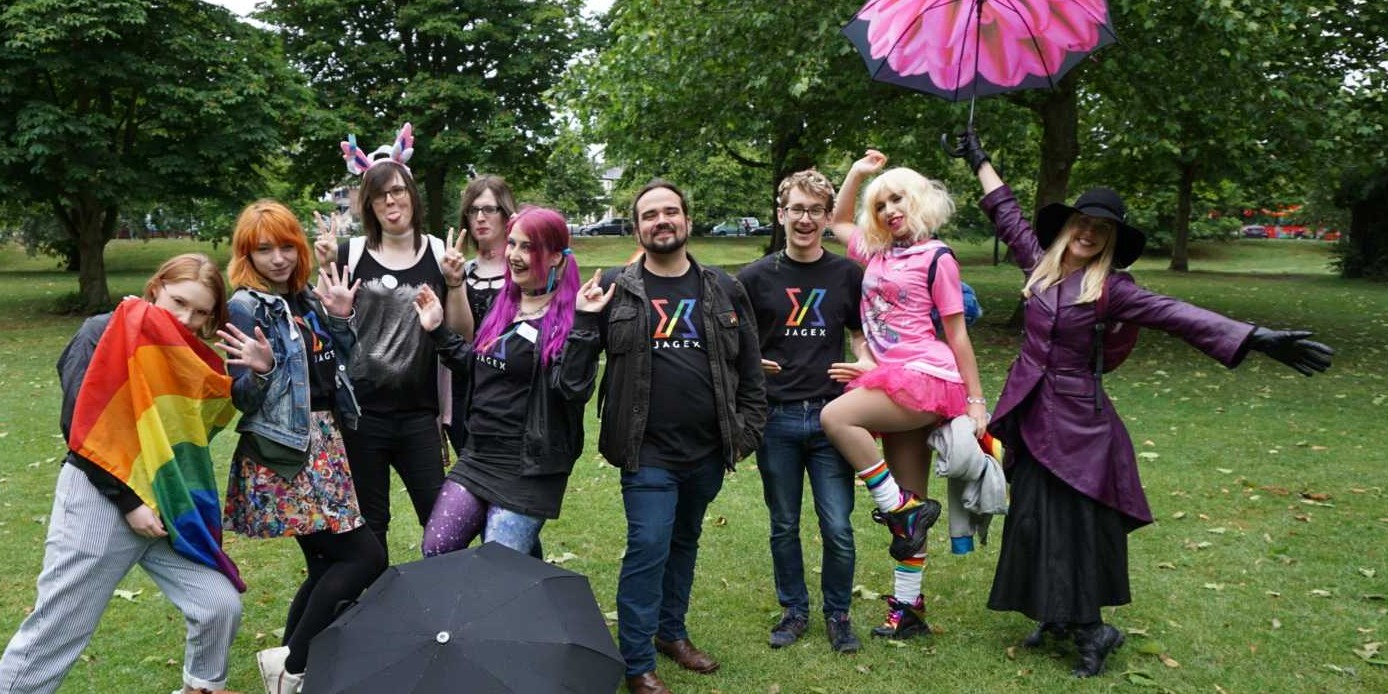 Here's how one of our Founding Pledge Partners, Jagex, are approaching the three pledge pillars:
We believe that higher levels of diversity and inclusivity has a positive impact on our both our working culture and the games we make. Meaningful change comes from within and Jagex empowered passionate team members to build Diversity and Inclusion initiatives from the ground up, rather than being mandated from the top down.
Over the past two years, our Diversity Initiative Team at Jagex has grown and attracted a wide cross-section of engaged and driven members from our 400-strong workforce. As the group grew in size and confidence, a change in internal attitudes followed. From initial small acorn projects, such as D&I-relevant chat rooms and meet-ups, the group now operates major internal, external, and in-game initiatives with a dedicated operating budget.
The group's most gratifying achievement has been the noticeable shift in the company culture. The freedom to talk openly about D&I issues has led to many positive developments. When asked how all of this has had a positive impact, one colleague said that Jagex is "the first workplace where I've felt welcome for who I am" and another said that the actions of the group make Jagex "one of the places I've felt able to open up a little".
As game companies come in all shapes, sizes, and flavours, we wanted to share some alternate viewpoints on ways that a team can drive positive change through passion and attention to details; the results are a better, more diverse, and more inclusive environment for our staff AND our players.
Pledge Pillar 1: Creating a diverse workforce
Activity: Multiple outreach initiatives to target under-represented groups at all levels with information on the industry and working within it, the opportunities, ways they can join, participate, and grow with our help and support.
How we delivered it:
1. Our cross-department Diversity Initiative Team, built and led from the ground up, organized online and in-person activities, such as school visits and trips from schools to our Jagex offices for different events:
2. Individuals at every level of our company got involved in multiple outreach activities – not just Recruiting or HR.
3. A variety of events throughout the year, with suggestions and referrals from staff and the local Cambridge area, fed into our calendars.
4. Different small groups visited schools and universities filled with minority/under-represented groups, giving education on the games industry, the tech sector, and ways to make inroads somewhere new.
5. We also hosted and staffed events for youth coding groups, LGBTQ+ player groups, minority and foreign players and potential staffers, and more.
6. For International Women's Day 2019, the group organised a Reddit Ask Me Anything about women working in the games industry. The initiative took pride of place on Reddit's front page. The AMA featured women, from all positions within the company, answering questions about their jobs. We published a video featuring some of the awesome women working at Jagex.
7. Over the past two years, we've focused on expanding our outreach and with many of our staff volunteering to be role models to the next generation of games industry talent.
Outcome:
We've created a workforce with a much stronger variety of LGBTQ+ and socioeconomic background diversity than ever before, with double digit percentage representation. This has also given momentum to our Diversity efforts in other areas, and excitement across the company for more.
Pledge Pillar 2: Shaping inclusive and welcoming places to work
Activity: Created an all-access, all-genders restroom in our offices
How we delivered it:
1. We believe that, in addition to big-ticket initiatives, enacting simple and small changes makes a tremendous difference in crafting a more inclusive culture.
2. Most office buildings don't have a lot of flexibility for service areas, such as bathrooms, without a great deal of time and effort from builders. We took advantage of a rare situation and turned a negative into a real positive for our team:
3. The Diversity Initiative Team, working regularly with our trans and non-binary staff members, determined that removing anxiety from the basics of day to day life – such as flexible bathroom facilities – would make a very positive impact on everyone.
4. The company had a private bathroom, originally created for visiting guests but rarely used for that purpose.
5. Team members suggested repurposing the space as an all-genders toilet.
6. The concept won immediate favour and our Facilities team refurbished the previously non-staff bathroom to become an all-gender toilet and washroom, made it available to staff and guests alike.
Outcome:
In addition to having all our transgender and nonbinary staff able to use any restroom they'd like, the entire company got to rally behind a previously unconsidered idea for how to create a more inclusive and welcoming work environment. It has generated numerous other ground-up discussions of how we can make our workplace more accessible for large groups of our staff and guests alike.
Pledge Pillar 3: Reflecting greater diversity in our work
Activity: We sense-checked and overhauled legacy in-game text to better reflect a global audience and use of inclusive language and behaviours.
How we delivered it:
1. As the home of the iconic living game RuneScape, we've delivered gameplay experiences for millions of players for nearly 20 years. Our Diversity Initiative team reviewed legacy in-game content and language and found some items, perhaps considered funny or acceptable a decade or more ago, needed refreshing and modernising. There are millions of words in RuneScape, so this became a sizable undertaking.
2. The team identified some antiquated language patterns in our game that weren't inclusive. The team called for volunteers to drive a deeper investigation to language and content throughout the game.
3. Starting with in-game text, we reviewed items for gender bias, inappropriate phrasing, outdated language, or unnecessary restrictions on character orientation.
4. A cross-functional group would bring up any problematic text for a 'change request'. Different groups were given the opportunity to feedback and suggest replacements that would offer better inclusivity while maintaining the characters and stories that have been in place for up to two decades.
5. Working with our Localization team, of text changes made it from JIRA requests all the way through to in-game use in all languages.
6. As RuneScape is a constantly evolving living game, we continue to lather, rinse, and repeat this initiative.
Outcome:
Staff were delighted to correct language that could be perceived as slights and our players were genuinely delighted with the contemporary refresh. Players thanked our team for the changes which brought in same-sex relationships, proper pronoun or descriptor options, and kinder language regarding global cultural components. Under-represented player groups engaged with staff in a way that furthered discussions for future content rollout with greater diversity.