Organising Inclusive Informal Events In The Games Industry Report & Best Practice Guide
By Dominic Shaw (He/Him) on 07/02/2022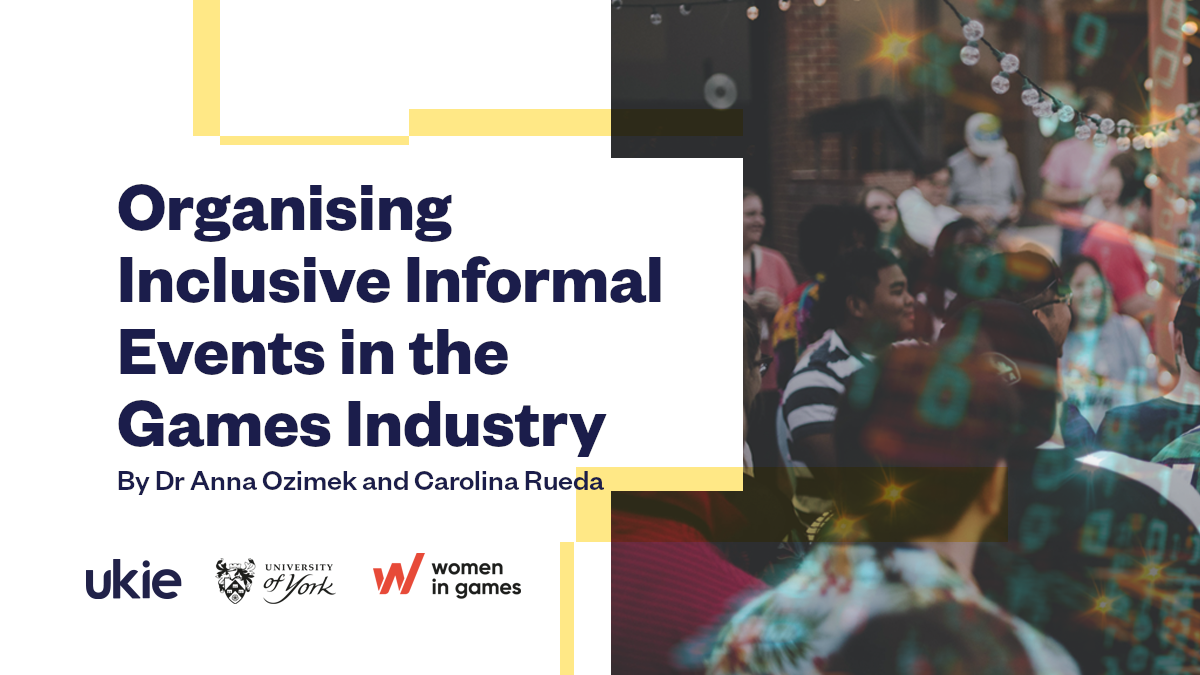 A new report from the University of York, the Screen Industries Growth Network (SIGN) and Ukie, backed by advocacy group Women In Games, has developed guidelines for the industry to ensure informal learning events are more inclusive.
The report, Organising Inclusive Informal Events in the Games Industry, examined the organisation of "informal learning events" such as conferences workshops, game jams and networking events to explore ways to ensure they were as inclusive as possible.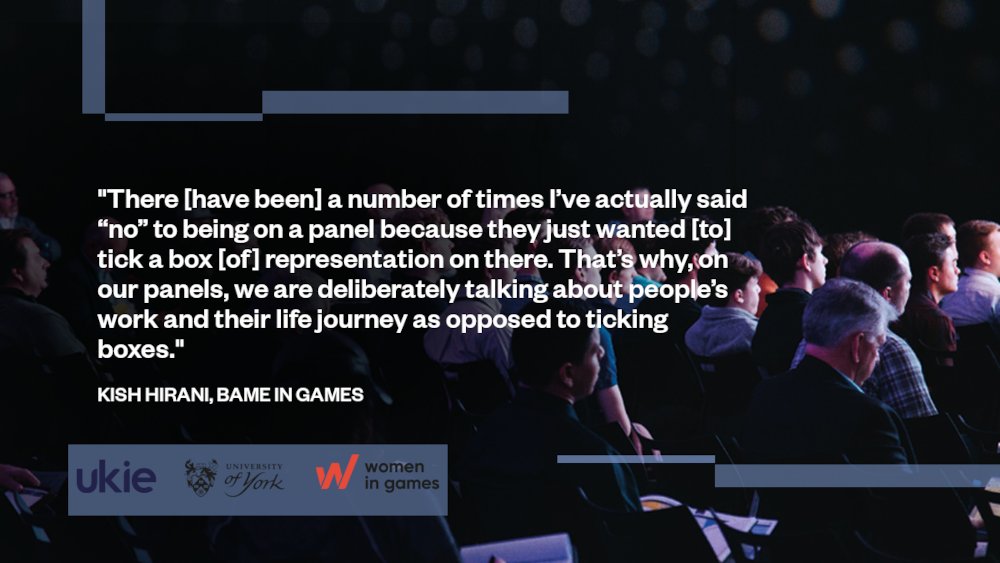 Two categories of data were drawn upon for this research: the analysis of secondary sources such as reports, codes of conduct and guides about the organisation of inclusive events; and 22 in-depth interviews with people from the games sector directly or indirectly engaged in the organisation of industry events. The conclusions have been worked into an accompanying "best practice guide" to provide a foundation for the industry to improve its event spaces.
Drawing upon 22 in depth interviews with people from across the industry and analysis of sources such as reports, codes of conducts and guides about organising events, it concluded that the many benefits of informal events - such as opportunities for career development or developing new skills - could be rendered inaccessible by environments that caused discomfort or exclusionary practices at events.
The principal recommendation from the report was for events to develop codes of conduct to help event organisers meet standards expected by attendees.
These codes of conduct must provide clear and specific definitions of appropriate behaviour and should be enforceable, meaning there should be directions for reporting improper behaviour and clear consequences for such behaviour to ensure organisers are held accountable and translating diversity best practices into action. Other recommendations included:
Consider changing the structure of events by making them shorter, splitting activities considerately over multiple days or changing timings to improve accessibility (e.g. by structuring around times appropriate for childcare commitments).
Running events without alcohol or providing alternative options, as well as reviewing how alcohol is served within the context of event and the needs of individual participants.

Using evolutions in the digital events space to improve accessibility – for example by providing the option to join a physical event online through livestreaming or providing live captions to digital events.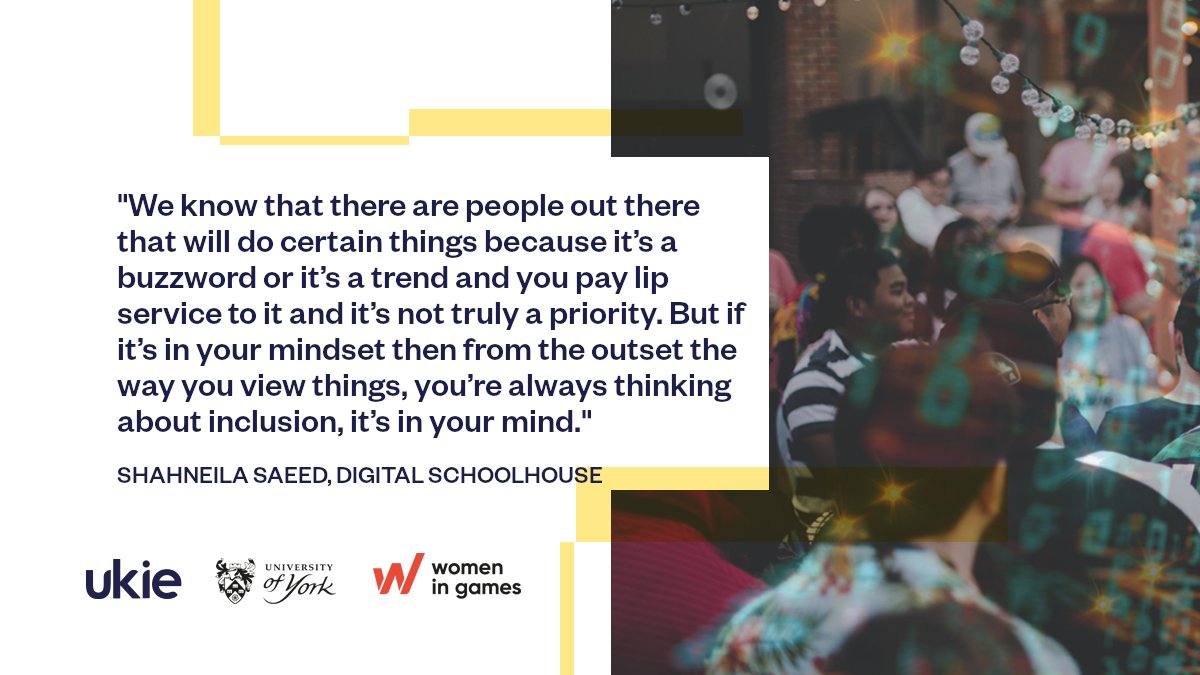 Interviewees pointed out a significant difference in levels of inclusivity between events. In particular, the report noted that organisations dedicated to supporting marginalised groups in the games industry tended to organise inclusive events comparatively effectively because they were better able to consider the lived experiences of marginalised people.
Finally, the report noted that training, resources and guidance on sponsorship relations/funding are required to ensure organisers of informal networking events get the appropriate support to deliver a truly inclusive event.
---
"This research provides companies, groups and individuals who organise informal networking events with deep insight into what creates a truly inclusive activity. We recommend that all event organisers take on board the recommendations of the best practice guide to create welcoming, safe spaces for all and encourage the industry to consider further action to build an inclusive framework for all informal events."
---
"The report and guidelines were developed based on insights from various organisations and advocacy groups in the games industry. We hope that these materials will provide useful recommendations and suggestions for organisers of different types of events. We also hope that this project, while only exploratory in nature, will lead to a broader discussion within the industry about improvements in the organisation of inclusive events."
---
"Being able to take part in this project has been incredible. Now more than ever before it is vital to bring novel, collaborative ideas and perspectives to the ever-changing status of the video games industry. Only by engaging with the vast multiplicity of voices within our industry can we nurture a welcoming, supportive environment of creativity and growth. Reports like this, with a practical outcome, I hope will serve to help many people in the future and in the many events that will come."
---
"Given how important informal learning spaces are the videogames industry, ensuring they are inclusive is fundamental to develop a sector which doesn't marginalise people. The evidence in this report demonstrates the need for such work and offers insights ways to organise events which open and welcoming to all."
---
"Attending events and networking is incredibly important when it comes to discovering new opportunities, career development and progression, as well as to build a supportive network of contacts and new friends. However, we know from our community that many women often feel nervous and lack confidence when it comes to attending traditional events. In addition, women with caring responsibilities find it difficult to network outside the working day. So we wholeheartedly welcome this report and its recommendations – and we hope that event organisers everywhere will take onboard its findings for the benefit of everyone, regardless of gender."
---
You can read the Organising Inclusive Informal Events In The Games Industry report here and the Best Practice Guide here.