One Year-On Pledge Partner Case Study: Splash Damage
By The Editor on 08/02/2021
As part of the 1 Year Anniversary for #RaiseTheGame we asked pledge partners and supporters to produce case studies for us to put towards our One Year-On Report.
The report is the pledge's first accountability activity for partners and supporters, by giving organisations involved the chance to spotlight and talk about their involvement in the pledge along with all the equality, diversity and inclusion (EDI) efforts they are doing!
The aim of the report is not to name and shame organisations if controversies have occurred, or there are no developments in particular areas for some time, but to encourage and normalise honest conversation around recruitment, work practices and external representation. Giving those involved in the pledge a chance to reflect, be transparent and review their activities - to be accountable and see where they are doing good and/or can improve in.
On the other hand, the report is also about rejoicing best practice and the achievements many of our pledge partners and supporters have attained on their EDI journeys either on their own or with the help of the pledge. As #RaiseTheGame is all about collaboration and learning from each other - thus allowing our pledge partner and supporter case studies to also act as a resource for other games businesses and organisations to learn from and see how their peers are improving diversity and inclusion in their workplaces.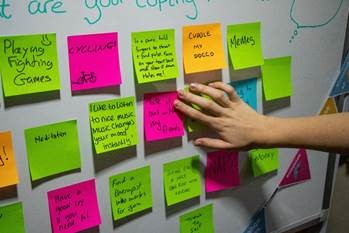 Here's how one of our Pledge Partners, Splash Damage, are developing their business through EDI and support from the pledge:
At Splash Damage, we believe that diverse teams create the best work. This means that we strive to ensure that Splash Damage is a safe, diverse, and inclusive workplace. This is why we have been extremely proud of signing up for the Pledge last year.
Diversity & Inclusion is a pillar of our work at Splash Damage. Since signing up to the Raise The Game Pledge, we have normalised conversations around it, as you can see from our extensive event work, unconscious bias training, and commitment to D&I during our interview and hiring processes.
We also speak regularly about it in and out of the studio, from company updates to studio strategies internally, to talks, panels, and workshops where we can share our learnings with the industry. We are always looking for outreach opportunities, ensuring that we're reaching as broad and diverse a talent pool as possible. We want to be at the forefront of these conversations, and we hope we can be a driving force for D&I.
This didn't come without its set of challenges; outreach and building a culture of inclusion has been immensely difficult in a year of remote work and uncertainty about the future. Our marginalised groups have had a particularly difficult year, following the tragic death of George Floyd, and the wave of allegations that shook the games industry. Throughout these challenging events, we've endeavoured to ensure we provide everyone with the support they need and outlets to safely discuss these issues.
Here is a breakdown of some of the things we have achieved in the past year, as well as testimonials from employees.
---
Work and Workplace Practices
We've been working tirelessly to revamp our interview processes to ensure they're more inclusive by:
Training hiring managers on unconscious bias.
Ensuring a diverse interview panel wherever possible.
Using gender neutral language in our job descriptions.
Ensuring our job adverts aren't overly long and specific (which has been shown to turn off minority applicants).
Making a commitment that any applicant who makes an interviewer feel uncomfortable in their answers shouldn't be hired; empowering our hiring panels to speak up.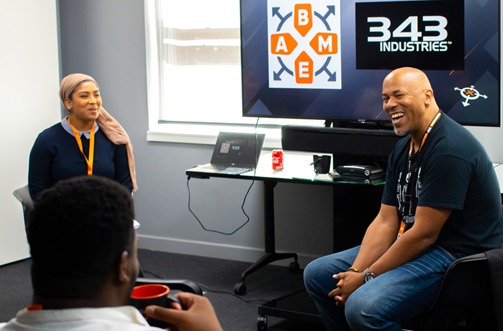 We are constantly reviewing our internal processes to ensure they are helping us create a diverse and inclusive environment: .
We have instituted the best maternity leave in the games industry: We now offer 30 weeks fully paid maternity leave (in addition to the statutory 9 weeks) and 10 weeks fully paid paternity leave. We also offer shared parental leave options, ensuring families have full flexibility in how they manage their time. That 30 weeks also extends to the primary caregiver in adoption situations, regardless of gender.
We have revamped our progression model to drive salary increases, by ensuring we take steps to manage unconscious bias through the process. As a result of it, the proportion of men and women promoted during the year was equal.
We have also been strengthening our commitment to normalising conversations around mental health, especially during these challenging times:
We offer professional 1 on 1 counselling sessions and have continued that service throughout this remote-working period.
We have a 24-hour counselling hotline.

We have several professionally trained Mental Health First Aider across the studio for staff to reach out to when they're having difficulty.
We have instituted a monthly mental health-specific catch-up between line managers and reports, with guided questions for line managers to help tackle any difficult situations. We are also providing all of our line managers with regular mental health training.

Throughout the ongoing COVID-19 pandemic we've ensured that all of our staff understand that it's ok to feel overwhelmed, or to struggle, and that the company is here for them. We're providing them with the security and reassurance they need, the tools they need to cope, and the knowledge that they can reach out for support when they need it, all whilst making it clear that they are allowed to take a sick day for mental health reasons.
To that point, we have cemented our ongoing commitment to D&I by promoting one of our employees, Cinzia Musio, to be a full-time Diversity & Inclusion Advisor. Her work has seen her recognised at the GamesIndustry.biz Awards by winning the 'G Into Gaming' award, as well as MCV's Women in Games Awards by winning the Games Campaigner of the year award, celebrating her work with D&I in the games industry.
---
Events
In the past year we've organised several events:
International Men's Day – November 2019.
We produced two videos focusing on both men's health (specifically on testicular cancer) and men's mental health. We also raised money for Movember with a few ridiculous moustaches across the studio.
Trans Awareness Week – November 2019 & 2020.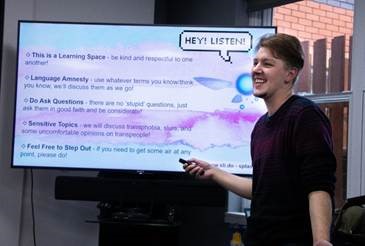 International Women's Week – March 2020.
We invited women from the games industry to talk about their disciplines at the studio. We also produced videos focusing on representation in the industry and at our studio. We hosted an HR Q&A on bullying, harassment, and benefits for women. We hosted self-defence classes, and our playtest area was taken over by games made by women. Throughout the week we raised money for #HomelessPeriod.
World Culture Day – May 2020.
We've hosted WCD twice in the past 12 months; one on-site, and one on Zoom. Both events have had dance classes and language classes. For the remote one, we brought in people from the industry to talk about what it's like to be a minority in the videogames sphere. We also raised money for ARCC Croydon.
Global Accessibility Awareness Day – May 2020.
This year for GAAD one of our employees held an internal talk about their colour-blindness and how it affects their work. We also had a visiting speaker come in and present analysis of the accessibility options in one of our games. We also raised money for Special Effect.
Pride – June 2020.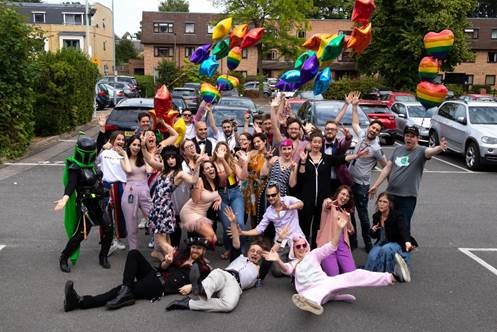 Black History Month – October 2020.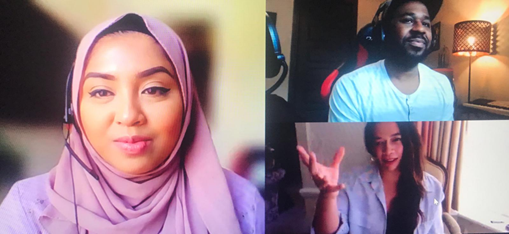 ---
Testimonials from the Team
-----------------------------------------------------------------------------------------------------
"I'm super happy and proud to be in a game company that does this kind of thing. It makes me feel like I'm in a safe place and it means a lot."
'Splash Damage Employee'
-----------------------------------------------------------------------------------------------------
"But throughout the entire interview process with Splash Damage, I was consistently met with specific answers and concrete examples of actions supporting representation & diversity of backgrounds within the studio […] gave me a huge amount of confidence that this would be a company where I could be comfortable, be my most creative and be visibly queer—in other words, a place I could be proud to work."
'Splash Damage Employee'
-----------------------------------------------------------------------------------------------------
"On a personal level, I'm really interested in the prospect of working at Splash Damage because of the work you've done for inclusivity in your 'ask Splash' videos. I appreciate what I've seen in the conscious effort to make sure that the company is offering a safe and welcoming space for anyone."
'Splash Damage Employee'
-----------------------------------------------------------------------------------------------------
"The start of the LGBTQ+ group definitely helped me to come out at work and feel more comfortable. Getting the studio and execs to openly support LGBTQ+ rights and celebrations like Pride Week made me very happy that I can be who I am and I don't feel I need to hide or be scared to be fired because I'm gay."
'Splash Damage Employee'
-----------------------------------------------------------------------------------------------------
"My recruitment process at Splash happened during and after Pride Week. I remember checking SD twitter account to have an idea of what kind of company it was, as I was a bit anxious to work in the industry for the first time. Seeing all the pictures and initiatives from Splash during the Pride week reassured me, I remember telling my friends - LOOK HOW COOL THIS VIDEO GAMES COMPANY IS, CAN YOU BELIEVE IT??"
'Splash Damage Employee'
-----------------------------------------------------------------------------------------------------
---
The future of Diversity and Inclusion at Splash Damage
The first year of the Raise The Game Pledge hasn't been without its challenges, but we are really proud of what we've achieved. We're looking forward to the next year where we're looking to improve our events, increasing the understanding of the data we have with regards to diversity across the studio, and continue improving our awareness & education of marginalised lived experiences.
---
To read the full One Year-On Report on release, follow Ukie's Twitter for the announcement and details, while keep checking back to the #RaiseTheGame website across the month of February for more case studies and content!