Develop:Brighton 2023
By Dominic Shaw (He/Him) on 30/06/2023
Develop:Brighton, taking place from Tuesday 11 to Thursday 13 July 2023 at the DoubleTree by Hilton Brighton Metropole, is the only event in the UK that brings the entire game-making industry together - to learn from each other, share ideas and experiences, network and do business in a friendly and inclusive environment; having done so since 2006.
Yet instead of going into massive written detail, here is a short video to describe what exactly Develop:Brighton is:
Knowing what Develop:Brighton is doesn't exactly mean your instantly sold though on attending the conference, which is why we want to highlight five reasons you should consider attending the conference from the #RaiseTheGame perspective:
---
1. #RaiseTheGame and much of its wider community will be in attendance!
Indeed, #RaiseTheGame will have an in-person presence at the event. For the last few years (This being the third year), #RaiseTheGame has been going to Develop:Brighton, connecting with game professionals about our purpose and facilitating activities in aid to make the games industry a more accessible and inclusive to play and work in.
For example, our so far annual Festival Of Food Evening (FOFE) event that you can check out here! - which was first started in 2021 as an response to our community and the wider games industry asking for an event during the conference that didn't focus so much on heavy drinking and set an open and safe atmosphere. Now in its third year, the FOFE has grown so much in such a short amount of time where we're able to host a mini expo at the event that includes students showcasing games and studios highlighting their work around EDI, cater to more attendees (Going from catering up to 150 people to now over 400), yet most of all still maintain our core goal and expand on it by making the event an example of inclusive event best practice by practising what we preach. And it seems to be working out as once again for the second time in a row the event sold out of tickets weeks in advance of Develop:Brighton!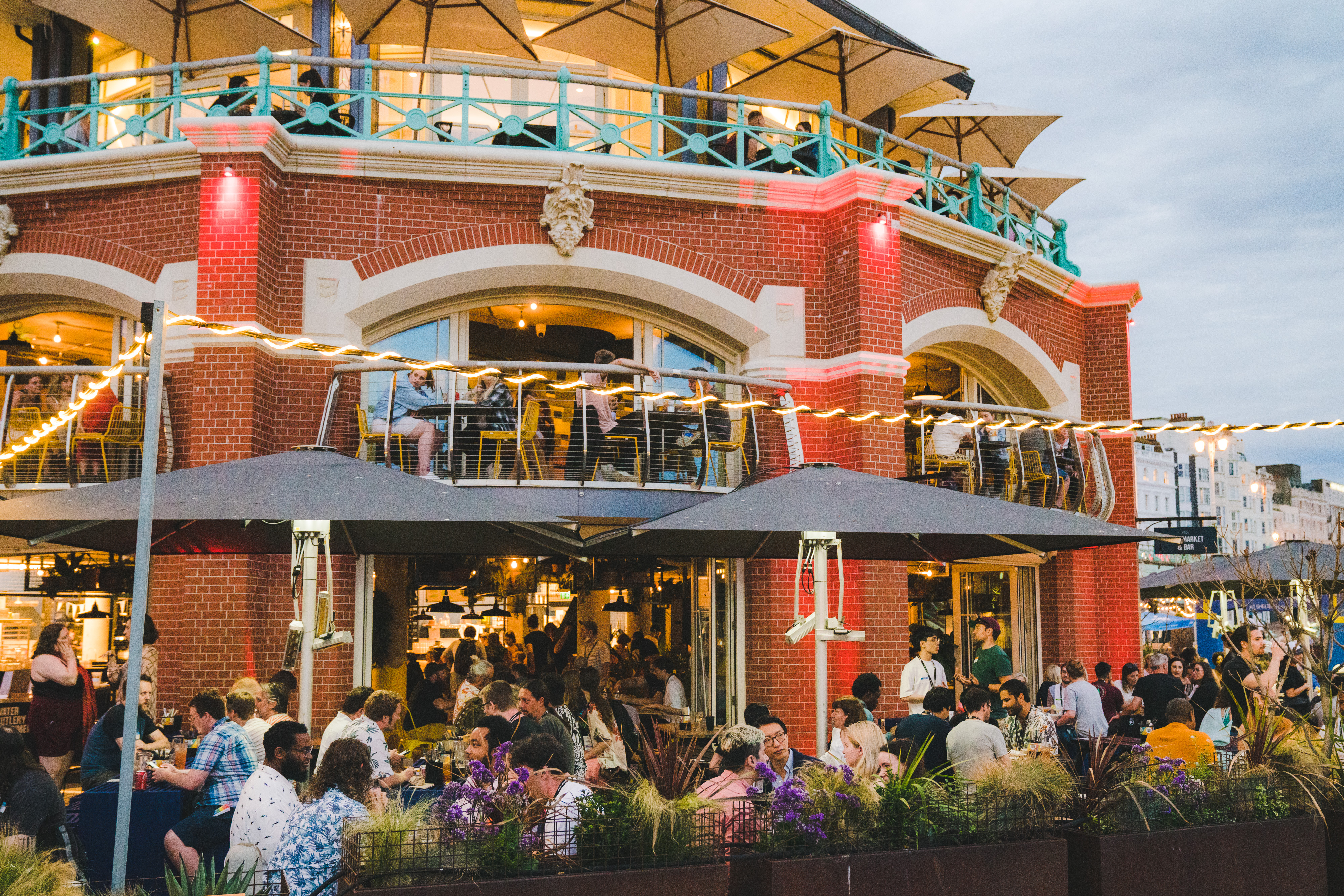 We have also had a roundtable slot at the conference each year we've been present, including this year. Normally creating a safe space for anyone to attend and openly talk about EDI matters they feel should be heard - this year we are dedicating our roundtable slot to Impact, our collaborative campaign with Many Cats Studios.
This roundtable will kick off the second phase of the Impact campaign where we will be revealing the first cohort for the campaign, and looking to take them to companies and events alike to educate and inspire the games industry to roll out more action and support to those from disabled and neurodiverse backgrounds.
Not only are we there yet many of our #RaiseTheGame partners and supporters will be present at and around the conference as well, including yet not limited to:
Auroch Digital, BFI. FuturLab, Game Anglia, ustwo games and many more all attending the conference and side events around it.
GG Insurance, Hanger 13, Keywords Studios, nDreams and The Chinese Room all hosting their own events during the conference.
PlayStation/Sony Interactive Entertainment, Splash Damage, Studio Vision and others having a booth at the Develop Expo.
d3t and W.R.K.S Games are just a few of the pledge community with talks and roundtable sessions during the conference.

All the partners and supporters involved in the FOFE as well!
---
2. Networking and side events
Alongside the main conference, there are tons of side events and networking opportunities regardless whether your just kickstarting your career in the games industry, or you have been working in/around it for many years.
If you like to see what events are happening during the conference, please check out the Develop Social Events spreadsheet here!
Alternatively do check out the Networking & After Hours list created by Develop: Brighton's organisers themselves.
If you like to a list of recommended pubs and restaurants in Brighton, be sure to take a look at the Develop Brighton Pubs and Restaurants spreadsheet here; as you can always make your own networking experience with the right food and drink in place!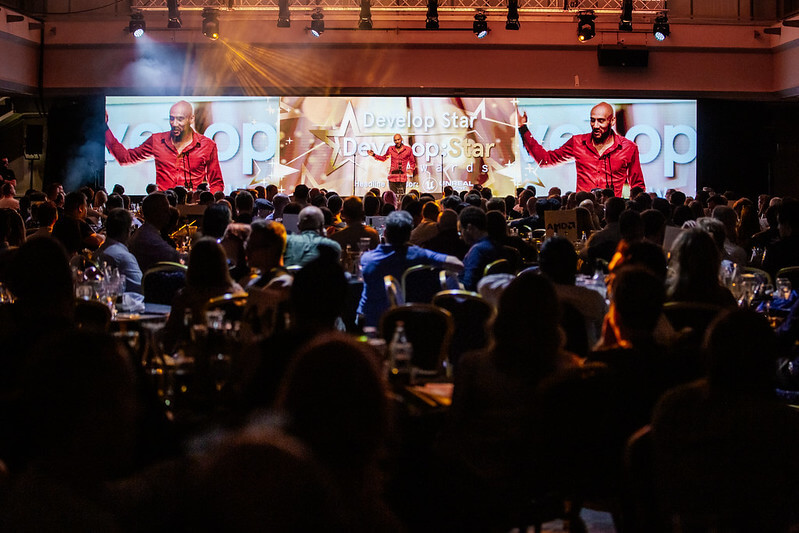 ---
3. Develop Expo and Meet@Develop
Running alongside the conference on Wednesday 12 July and Thursday 13 July is the Develop Expo. It's free for anyone to attend and brings together some of the most innovative companies from every sector of games development, alongside the chance to play games that are on display including those from the Indie Showcase which demo's some of the best independently developed projects around.
At the heart of the Expo is the Develop Networking Lounge so people don't have to go far to have an informal meeting or to just mix with other visitors. If you've opted into into the conference's meetings system, that is Meet@Develop - then there will also be a dedicated meeting space as well.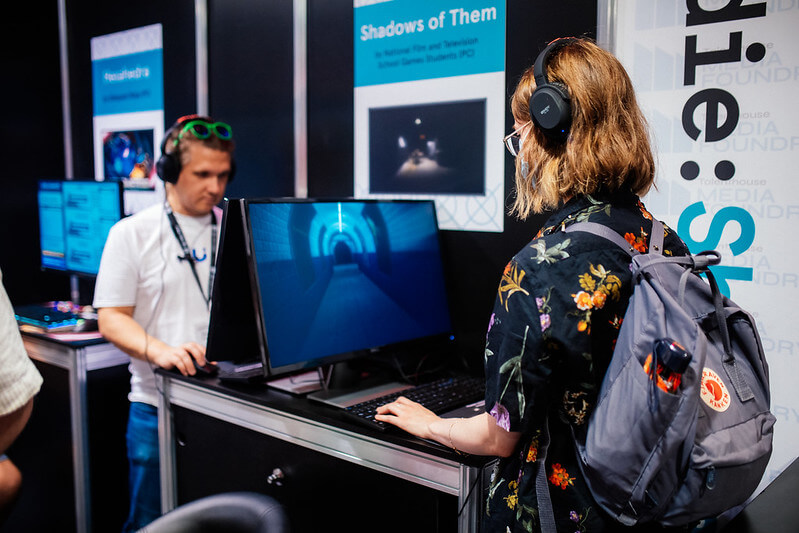 ---
4. Talks and speakers
The Develop:Brighton conference has something for everyone - 10 tracks covering every discipline of game making, including free Roundtables and Indie BootCamp. Their main focus is practical take-away and vocational content giving people the chance to "skill-up" and do what they do even better.
Check out the conference's full programme here!
Not to mention all the lovely speakers that will be delivering sessions at the conference that you can see here; guaranteed people to network with through Q&A moments and if they are available after their session.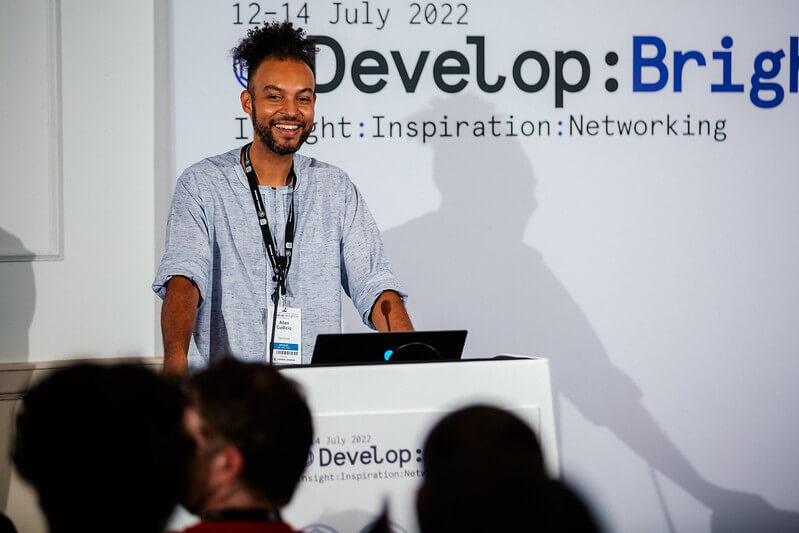 ---
5. Recent inclusive developments to the conference
Tandem Events, the organisers behind Develop: Brighton, have been listening to the game development community over time and this year will see a lot of that feedback put into action through new elements of the conferences, such as:
The continuation of the Develop:Brighton Creche - Free childcare for conference delegates that you can read more about here!
A quiet room area put in place to allow those that need to chill and reduce sensory overlord a space to do so.
A refined Code Of Conduct that also includes a new dedicated email address, that is conduct@tandemevents.co.uk - for anyone to report any unacceptable behaviour in and around the conference.
A new Diversity & Inclusion Policy that highlights some of the efforts the organisers have done to make the event more welcoming to those from underrepresented backgrounds.
With the conference venue recently having an renovation and name change, extra efforts around accessibility have been taken into consideration. We've been advised that all Develop:Brighton sessions are accessible as the conference does not plan to use the Clarence Suite (Big room at the back of the venue where they used to hold their Keynotes), with 5 out of 6 rooms including roundtables being off the lobby on the ground floor. Room 6 free sessions on Weds and Thurs off the Develop Expo area will be accessible via a lift on the ground floor that event and hotel staff will escort anyone up there.

---
Yet don't just take our word for it, here is a video of some fantastic game professionals giving their thoughts on Develop:Brighton too:
For more information about Develop: Brighton, check out the event's website here!
Further reading
Develop Brighton 2022

Develop: Brighton, the only event in the UK that brings the entire game-making industry together is back for 2022 with #RaiseTheGame as an event partner...